---
---
Do you still have questions?
E-Mail:
info@laulas.com
We are very pleased to answer your questions and are looking forward to your suggestions which help us to become even better.
---
Was tun bei Schweißflecken?
Das ist Thomas Boss
47, Vater, Manager
Das ist Sara Weiss
24, Single, Krankenschwester
Das ist Jan Dunkel
15, verliebt, Schüler
Alle drei leiden an übermässigem Achselschweiß. Sie haben ein Problem, das sich lösen lässt. Aber noch sind sie gestresst. Übermässiges Schwitzen entsteht vor allem in beruflichen und privaten Stresssituationen.
Thomas Boss führt wichtige Kundengespräche, hält Vorträge, muss repräsentieren. Er fürchtet, dass seine Schweißflecken dabei negativ auffallen. Das mindert seinen professionellen Auftritt.
Sara Weiss achtet auf Reinlichkeit. Schweißflecken findet sie unhygienisch. Vor Ärzten und Patienten will sie sauber wirken. In der Freizeit wagt sie kaum noch, mit Freundinnen zu tanzen. Sie schämt sich zu sehr über ihren Schweiß
Jan Dunkel hat Angst, dass seine Clique über seinen Teenager-Schweiß die Nase rümpft. Er traut sich darum auch nicht, seine Flamme anzusprechen. Auch beim Gedanken an ein Vorstellungsgespräch für seinen bevorstehenden Berufseintritt bekommt er Schweißausbrüche.
Schweißflecken sind in unserer Gesellschaft verpönt. Schwitzen ist ein Tabuthema. Doch es hat eine wichtige Funktion:
Schweiß kühlt unseren Körper.
Beim Sport und in Stresssituationen sorgt er dafür, dass wir nicht überhitzen. Beim Sport ist das nicht peinlich, da schwitzen alle. Umso mehr stört er uns Betroffene bei der Arbeit, bei einem Date, bei Feierlichkeiten.
Da wünscht man sich nur eines: Bloss weg mit diesen Schweißflecken!
Das lässt sich auf zwei Arten lösen:
1. Schweißfluß reduzieren oder verhindern.
Dazu greift man in den Körper ein mit:
Botox
Skalpell
Anti-
transpirant
2. Schweißflecken verhindern.
Ganz einfach und ohne Eingriff in den Körper.
laulas® Funktionsunterhemden saugen den Schweiß auf bevor er dunkle Schweißflecken verursacht. Die wichtige Kühlfunktion bleibt erhalten.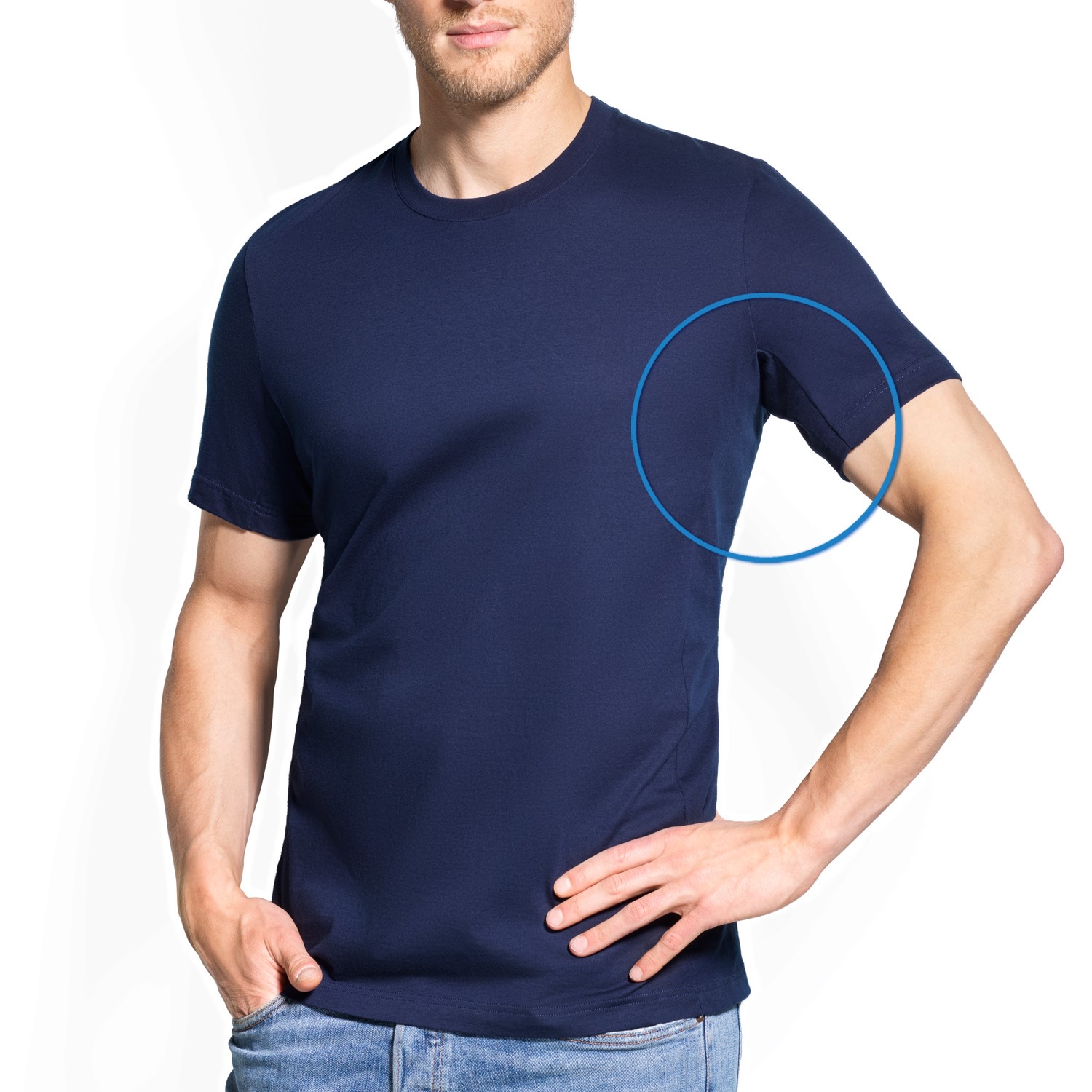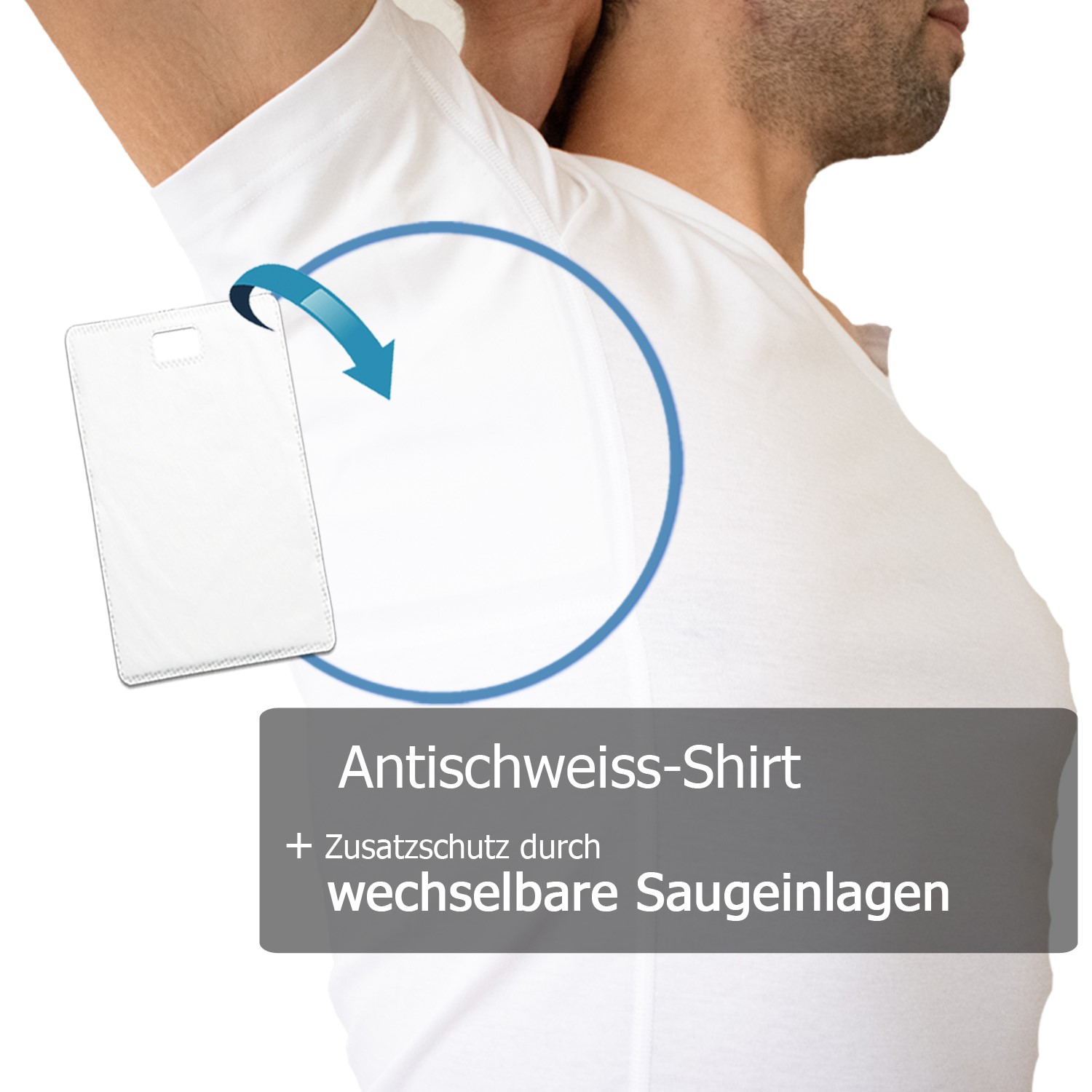 Unsere drei Betroffenen versuchen es mit laulas

®

. Das nützt bereits ab dem ersten Tag:
Bei Thomas Boss steht heute ein Kundengespräch auf dem Terminplan.
Deshalb legt er am Morgen die laulas® Saugeinlagen in sein neues laulas® Funktionsunterhemd ein. Das dauert nur zehn Sekunden, ist unsichtbar und angenehm zum Tragen.
So funktioniert's:
Im Shirt ist unter der Achsel eine Innentasche eingenäht. Dort legen Sie eine laulas® Saugeinlage (ein Pad) ein. Diese saugt zuverlässig allen Schweiß auf. An sehr "schwitzigen" Tagen können Sie zur absoluten Sicherheit zwei Pads einlegen. An "normalen" Tagen geht's auch ohne Pad. Denn das laulas® Funktionshemd kann auch ohne Saugeinlage durch den integrierten Membran im Achselbereich kleinere Schweißflecken verhindern.
So geht's: Saugeinlage mit dem Mesh-Stoff zwischen zwei Finger klemmen, in der Mitte nach unten drücken, so in die Innentasche einschieben, Klettverschluss schliessen. Fertig! Dauert nur zehn Sekunden – reicht für einen sorgenfreien Tag ohne Schweißflecken!
Sarah Weiss freut sich nach einem ersten schweißfleckenfreien Tag im Krankenhaus auf eine Geburtstagsparty mit Freunden. Vor dem Fest wechselt sie zu Hause die Saugeinlagen (Pads), zieht ihre neue Seidenbluse an – und ist bereit für eine heisse Nacht ohne Schweißflecken und Peinlichkeiten.
Jan Dunkel hat dank laulas® den Mut gefunden, sein erstes Date zu vereinbaren. Er ist aufgeregt und schwitzt, aber davon sieht die junge Dame nichts.
Jan weiss jetzt, dass er sich auch nicht mehr um die Vorstellungsgespräche für seine Lehrstelle sorgen muss. Dank laulas® konzentriert er sich dabei auf seine Stärken – und nicht mehr auf seinen Schweißfluß.
Thomas, Sara und Jan sind unglaublich erleichtert. Sie gewinnen neue Sicherheit, werden privat und beruflich entspannter. laulas® gibt Betroffenen von übermässigem Achselschweiss ein Stück echte Lebensqualität zurück – seit vielen Jahren. laulas® hilft tausenden von Menschen in über 30 Ländern dieser Welt.
Sie können laulas® während dreissig Tagen ausführlich ausprobieren. Lassen Sie sich so in aller Ruhe überzeugen. Wir nehmen es ohne Wenn und Aber zurück, falls Sie nicht davon überzeugt sind – was bei laulas®-Benutzern allerdings kaum vorkommt.
Hohe Schweizer Unterhemden-Qualität mit hoher Funktionalität vereint
laulas® gibt es:
als Unterhemd für die gesamte Garderobe
als Poloshirt für die Freizeit
als Freizeithemd für heisse Sommertage im Garten
Fragen?
Wir freuen uns auf Sie
herzliche Grüsse
Ihr laulas Team Schweiz-Deutschland-Österreich